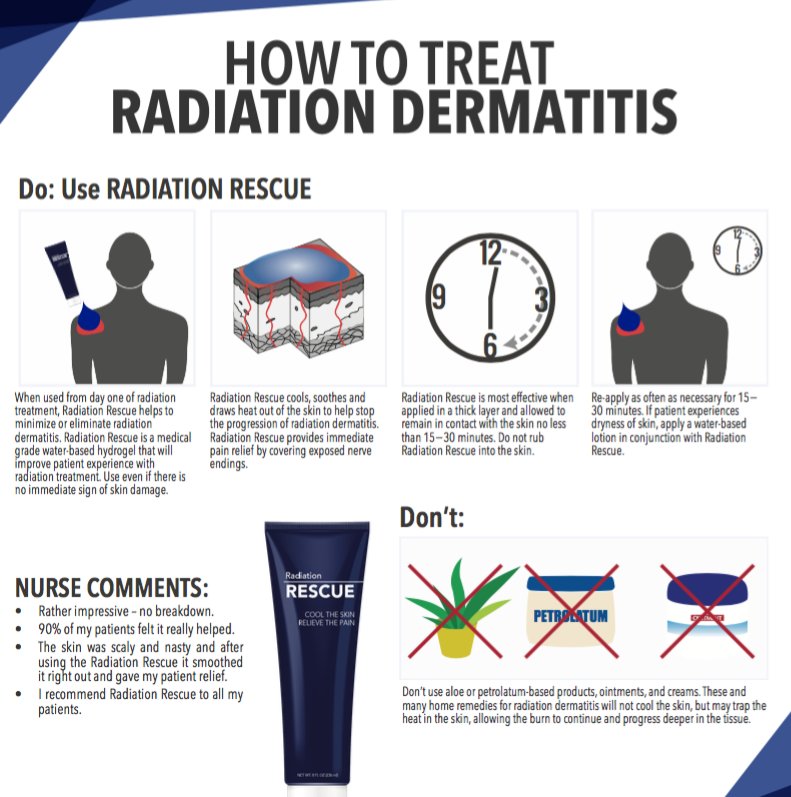 About Radiation Rescue
With more than 20 years of first-hand work experience in the first aid marketplace, specifically in the burn care market, the founders of Radiation Rescue saw a great need for a cooling hydrogel that would meet the specific needs of cancer patients undergoing radiation therapy. As we saw family and friends go through the life changing experience of chemo and radiation treatments, we started to understand that we had the ability and knowledge to develop a specific product that would help make the difficult experience of radiation therapy a little easier.
Radiation Rescue is the result. Radiation Rescue is a silky-smooth hydrogel Class 1 Medical Device that instantly cools and soothes the skin and prevents or drastically reduces radiation dermatitis. By preventing or reducing the radiation dermatitis, the patient is more comfortable, all treatments may be given on time, and expensive support products are not needed to treat the damaged skin. We have seen that consistent and systematic use of Radiation Rescue saves money — and can even help save lives because every radiation dose can be administered on time.
Most of the current radiation burn creams, and radiation burn treatments in the marketplace for radiation dermatitis, are used to treat the skin after it is damaged. Additionally many of these products are petrolatum based. This is a problem as oil-based products trap the heat in the tissue. When such products are applied to the damaged skin, they may help with skin dryness or itching, but they can also cause the burn to deepen as they trap the heat in the damaged skin. Some of the products commonly used for radiation dermatitis appear to be water based because they have the word "Aqua" in their name, but upon inspection of the ingredients, you will find that they have a high oil or petrolatum content.
Radiation Rescue provides the instant cooling that is needed to help with comfort, pain and reduced or eliminated radiation dermatitis. This is a product that is very important to us, not only because we have personally seen the soothing comfort it provides to loved ones, but because it helps to make a difficult time just a little bit easier.
We are proud to offer you Radiation Rescue.